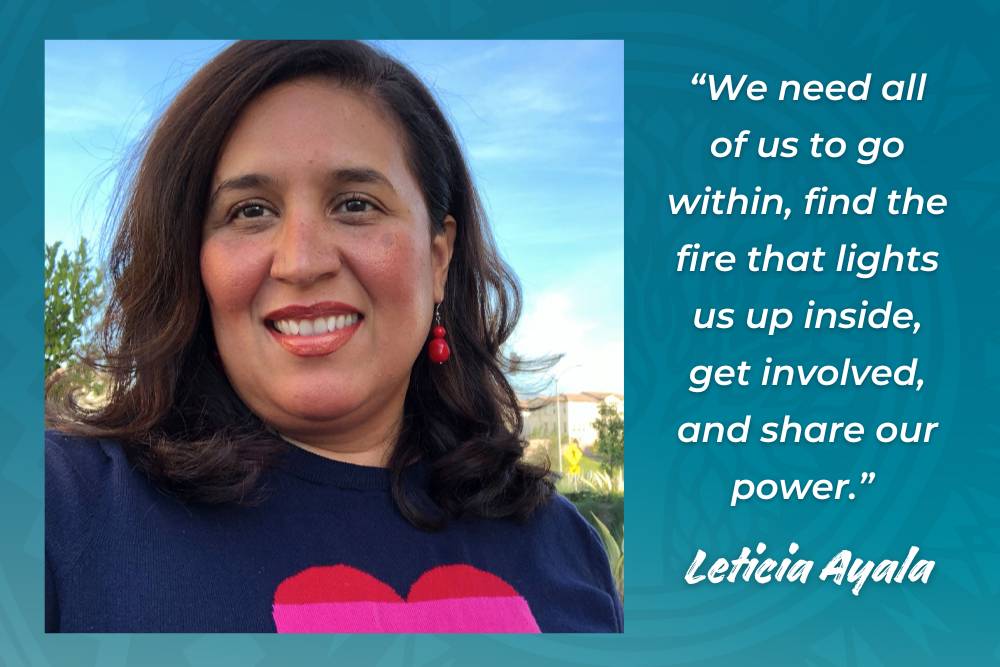 This Latinx Heritage Month we are excited to shine a light on one of EHC's longest serving staff members, Leticia Ayala – or as her colleague and the community fondly know her, Letty.
With roots in Gomez Palacio, Durango, Mexico, Letty was born and raised in Los Angeles, California. She earned her Bachelor's Degree in Business Administration from Loyola Marymount University. A true Sagittarius, Letty is exuberant and energetic, a proud mom. Her hobbies include Feng Shui, Space Clearing, angels and archangels, Yoga, Numerology, stargazing, and meditation.
A veteran of the environmental justice movement, Letty first joined EHC in 1995. During her tenure, Letty was key in helping to pass the "No Lead in Candy Law", the first law in California to ban the sale of lead-contaminated candies in 2005. Then, in 2008, she led the campaign to pass the "Children's Right to Lead Safe Housing Ordinance" in San Diego.
In her current role as the Health Kids Campaign Director and Leadership Development Director, Letty works with community members to protect children's health by eliminating the risks of childhood lead poisoning and other housing hazards in National City and San Diego. Together with staff and community leaders, she co-creates SALTA leadership development trainings to deepen community knowledge of environmental health and justice, build skills to empower community leaders to speak for themselves, give voice to their proposed solutions, and be a force for people power.
What led to your work in environmental justice?
When I moved to San Diego at the end of 1994 and drove under the Chicano Park Murals I said "I want to work here." A few months later, the universe conspired and got me to EHC. The job ad in a community newspaper in 1995 did not say it was an environmental justice organization, it only said it was non-profit. Yes, if you are counting, that means I have been here for 28 years. Back then, I was only applying to non-profits.
Once I started working at EHC, I connected the dots and figured out that my dad was sick due to all of the chemicals he was exposed to as a metal polisher for 20+ years. Sadly, he died prematurely as many of our gente do in Logan and National City.
Is the Latinx community and other communities of color unfairly impacted by air pollution and other health hazards in their homes?
Even though all San Diegans look up to clear blue skies, this does not mean that the air is clean. We know from CalEnviroScreen that our communities (primarily people of color) are the hardest hit by pollution sources. We also know that our communities suffer from asthma hospitalization visits and respiratory illnesses two to three times more than other residential neighborhoods like La Jolla. They don't put nasty polluting factories next to schools and daycare centers in La Jolla, do they? And, we know that most of the schools that suffer from chronic absenteeism are in the 92113 zip code. Why do kids miss so much school? Because they cannot breathe – shouldn't breathing be a human right for us all? Our communities are the hardest hit by environmental racism.
As a Latina, what do you feel you bring to the environmental justice movement?
My culture, my language, my story.
How do you empower Latinx and all people to stay positive and keep fighting for environmental justice when things can sometimes seem bleak or out of reach?
Sadly, in our communities, we do not have any respite from the toxic pollution. It is 24/7, even at night. It is hard on the body as people get sick. It is hard financially, who pays for the medical bills? It is hard on the soul, why us?
But, we have seen time and time again during EHC's 43-year-old history that if people get involved, we win. Our wins do take time, it's not done overnight. With every battle won, there is a huge sense of accomplishment not just because we are winning a better quality of life but because we also built more people power.
It's via the SALTA trainings that we can build confidence and skills so that folks can be effective organizers, advocates, and spokespeople. It's hearing their live testimonies at the various decision-making tables that brings chills to me as they engage and fight for their health. We are inviting the community to join our upcoming Clean Air Congreso and tap into their internal luchador. Come learn how you can be a part of a movement to bring down polluters, fight for environmental justice, and get clean air for our children and families. Let's flex our muscles and use our power. Because just like muscles, if we do not use them, we lose them.
Who is your Latinx role model and why?
My mother. She is my greatest teacher, a master of living life like a Buddhist, in total peace no matter what. She is unshakable.
What 3 words would you use to describe yourself?
Spiritual
Happy
Humanitarian
What words of advice do you have for Latinx people who want to make a change in their communities?
We cannot afford to continue to play it safe, stay quiet, and let others do the talking. Life is a big puzzle. Some bring big parts and many of us bring smaller parts. But, just like a puzzle, all parts are needed. So, don't ever think that your voice doesn't matter. In fact, it is deeply needed. I invite each of you reading this to start thinking about ourselves more as a collective and less individualistic. We need all of us to go within, find the fire that lights us up inside, get involved, and share our power.
Join Our Clean Air Congreso
Join us on October 14th to learn how you can fight air pollution in your neighborhood and become a Clean Air Luchador!