Polluting industries don't belong next to our homes, schools, and churches.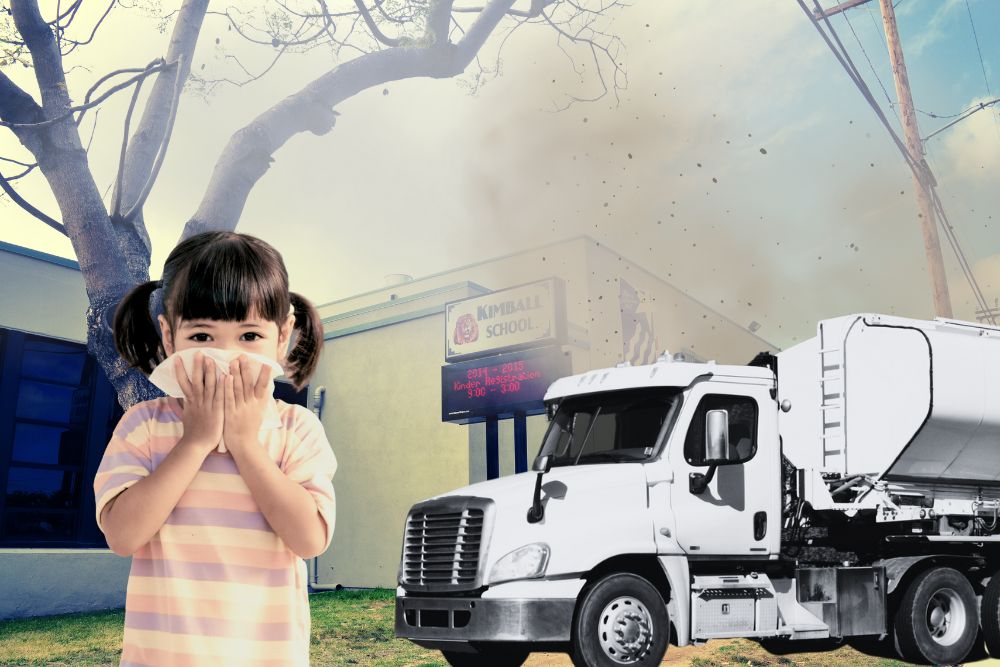 Another polluter wants to set up shop in National City less than a ½ mile away from Kimball Elementary and St. Anthony of Padua Church. USD Group, LCC (USDG) plans to build a fuel transfer station, on West 18th St, that would dramatically increase the number of diesel-polluting trucks driving past our homes, schools, parks, and churches. West National City already breathes more diesel pollution than 90% of communities in CA.
Cancer Causing & Lung Damaging
Diesel emissions are known to cause cancer and damage lungs, contributing to breathing problems like asthma. In Portside communities, 84% of cancer risk is from diesel pollution. Children in National City have twice the asthma emergency room visits rate than the county average.
Hazardous Fire Risk
To make matters worse the train and trucks associated with this project would be carrying large quantities of highly flammable toxic chemicals. If they crash or if there is any type of slip up it puts our neighborhood at risk of a major catastrophe, like in Palestine, Ohio where a train carrying chemicals crashed causing a fire and evacuations. Six months later, the community is still suffering.
DEMAND NATIONAL CITY COUNCIL VOTE TO REJECT USDG FUELS, LLC.
Fill out the form below to email National City Council.
---
ABOUT THE PROJECT
Railcars would carry toxic fuel to the station and transfer it to heavy-duty trucks to drive down our streets and distribute it throughout San Diego.
24/7: The facility will operate 24 hours per day, seven days a week.
More Polluting Trucks & Trains: The facility will add nine rail spurs and four fixed truck loading spots.
Increase Truck Traffic: The station would require 115 heavy-duty diesel trucks (oil tankers) per day, increasing truck traffic in the community.
Dangerous Cargo: Trucks will be loaded with highly flammable and toxic blended diesel fuels.
More Air Pollution: All of the fuels transferred produce air pollution, including climate-change-causing gases.
THE DANGER
Lung Damage: Most oil tankers run on diesel. Pollution from diesel contribute to cancer, low birth weight, and lung damage – leading to breathing problems like asthma.
Threatens Clean Air Goals: By potentially increasing heavy-duty diesel truck traffic, the station threatens the local clean air goal to transition to pollution-free trucks (ZEV).
Fire Risk: Trains and oil tankers would be moving large amounts of hazardous chemicals through our communities increasing the risk of a catastrophic emergency.
Worsens Climate Crisis: Medium and heavy-duty trucks emit 15% of all oxides of nitrogen (NOx) countywide, which contributes to climate change.
Noise Pollution: 70% of the trucks will travel to the facility from 6pm-6am to avoid traffic, which increases noise pollution during normal sleeping hours.
CLOSE TO HOMES & SCHOOLS
Schools: Less than 1/2 miles away from Kimball Elementary School
Homes: ~550 ft. from the closest residential home
Vulnerable Community: Located in San Diego's Portside Environmental Justice Community (AB 617) area, which the State selected to monitor and reduce air pollution