San Diego's current transit system doesn't work for our families, economy, health, or environment. It makes it hard for working families to access job opportunities, visit the doctor, and get groceries. It contributes to the climate crisis and pollutes the air we breathe.
The majority of the San Diego region's transit riders live south of the 8 freeway where our communities are located, but over 70% of residents can't access jobs, school or other vital locations on public transit. All San Diegans, no matter their zip code, deserve a safe and reliable transit system to get where they need to go.
EHC and a coalition of community members and partner organizations are fighting for a transit system that reduces greenhouse gas emissions, decreases lung-damaging air pollution, and meets the need of the low-income communities of color, who depend on it the most.
Led by EHC and the San Diego Transportation Equity Working Group, residents at the frontlines of the climate crisis in Barrio Logan, City Heights, and National City identified 10 priorities to improve the transit system for all San Diegans – the 10 Transit Lifelines.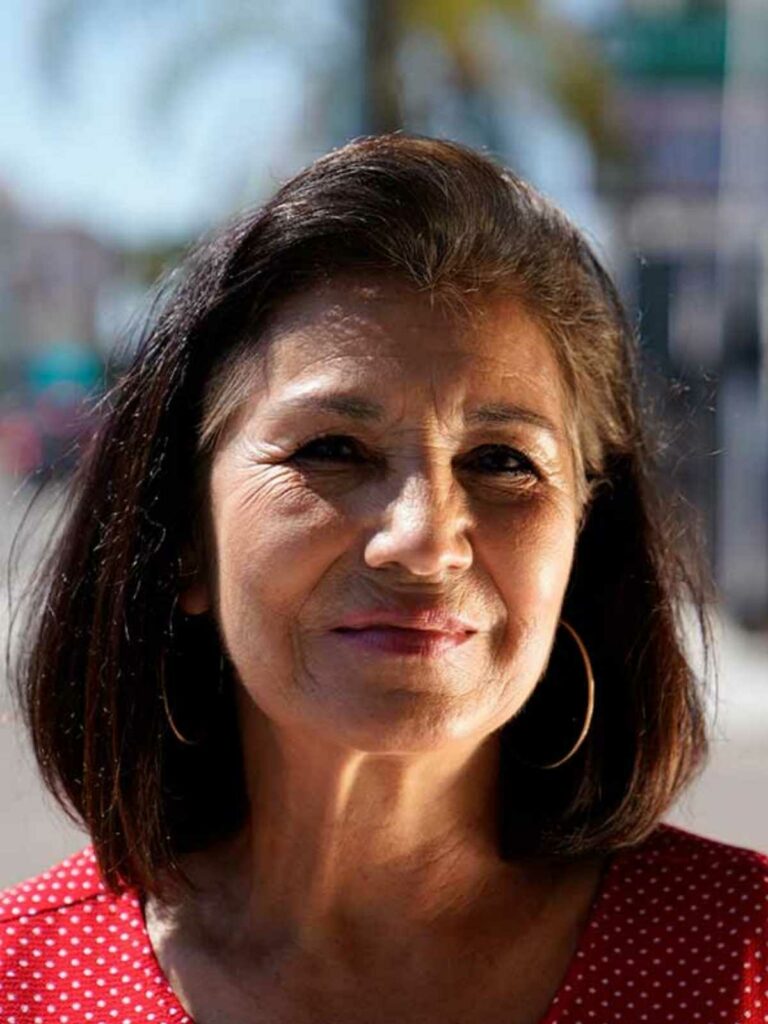 Community Leader Fighting Back
Esperanza Gonzalez has relied on transit to get to work for over 30 years. It takes her two transfers and an hour and a half to get from home to work. Transit has not changed much in the more than 3 decades she's used it. A long-time member of EHC's City Heights Community Action Team, Esperanza is working to make sure San Diego's transit system is environmentally just, frequent, reliable, and meets the needs of the communities like hers– low-income, communities of color. Did You Know?
71% of jobs in the San Diego region are not reachable by transit
78% of MTS riders do not have a car available
Passenger cars and trucks are the largest contributors to climate change in the San Diego region EHC impacts and victories:
More Democratic Transit Decision Making
EHC and community activist were crucial in advocating for passage of Assembly Bill 805, authored by Assemblymember Lorena Gonzalez Fletcher. This law made the San Diego Association of Governments more representative and democratic by weighting board member votes by the population they represented. 
Coming Together for Transit Justice
EHC and other community-based organizations established the San Diego Transportation Equity Working group in order to elevate transportation and environmental justice opportunities in San Diego. The core organizations are Center on Policy Initiatives, City Heights Community Development, Environmental Health Coalition, Mid-City CAN, and San Diego 350. Supporting organizations include Casa Familiar and the Urban Collaborative Project.
Pollution-Free Buses For Environmental Justice Communities
Listening to the demands of EHC and community activists, the MTS Board of Directors approved a plan to prioritize getting pollution-free buses in communities that experience the most negative impacts of climate change emissions as part of the agency's required transition to 100% bus electrification by 2040.
More Bus Trips & Free Youth Passes
After a successful grassroots campaign led by EHC, Mid-City CAN, City Heights CDC, CASA Familiar, The Urban Collaboration Project, Alliance for regional solutions and other organizations SANDAG approved an $8 million pilot program to increase bus trips in low-income communities of color and provide free youth passes.
Adoption of the 10 Transit Lifelines
Led by EHC and partners, residents at the frontline of the climate crisis in our communities identified 10 transit priorities – the 10 Transit Lifelines. In December of 2021, the San Diego Association of Governments passed a Regional Transportation Plan that paves the way to make them a reality. The 10 Transit Lifelines will reduce greenhouse gas emissions, decrease lung-damaging air pollution, and meet the needs of the low-income communities of color.