Opportunity to bring $56 million to our Historic Barrios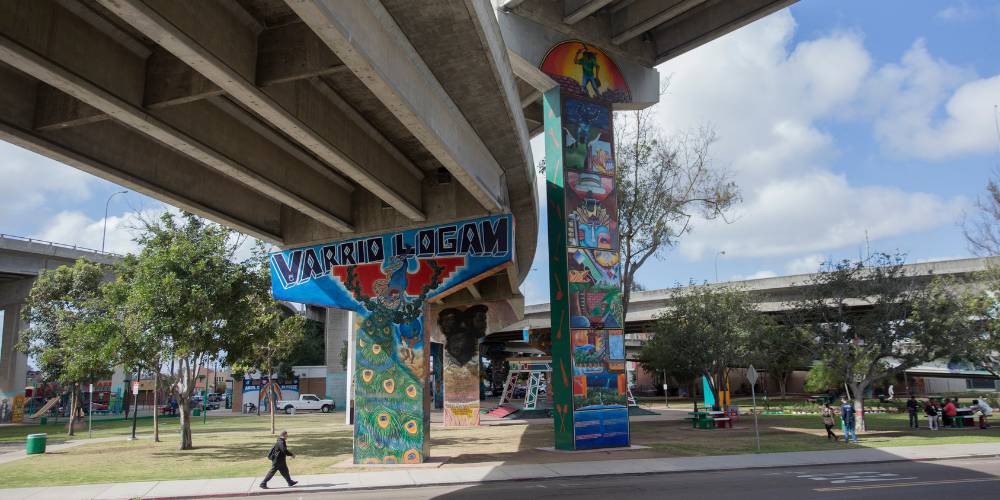 A coalition of community stakeholders are applying for the Transformative Climate Communities'(TCC) grant to help fund $56 million in climate change resilient projects that will preserve, protect, and strengthen San Diego's Historic Barrios – Logan, Stockton, Grant Hill, Mt. Hope, Sherman, Southcrest, and Shelltown.
Considered cultural gems, these majority minority neighborhoods have suffered racist rezoning that has led to decades of toxic pollution and chronic disease like asthma. With high levels of poverty and rising rents, residents are at risk of being evicted and the whole community being gentrified.
The TCC grant will provide $29.5 million in project funding, plus over $26.5 million in additional matching funds from outside sources will add up to a total of $56 million in impact.
---
For and by the community
Since the beginning of the year, EHC, San Diego Foundation and our partners have been working hard to make sure our Transformative Climate Communities (TCC) application is grounded in our community, and led by our community. We've hosted a survey and two community workshops to get direct resident feedback on where TCC funding is needed most. The list of projects and partners has changed to meet community feedback.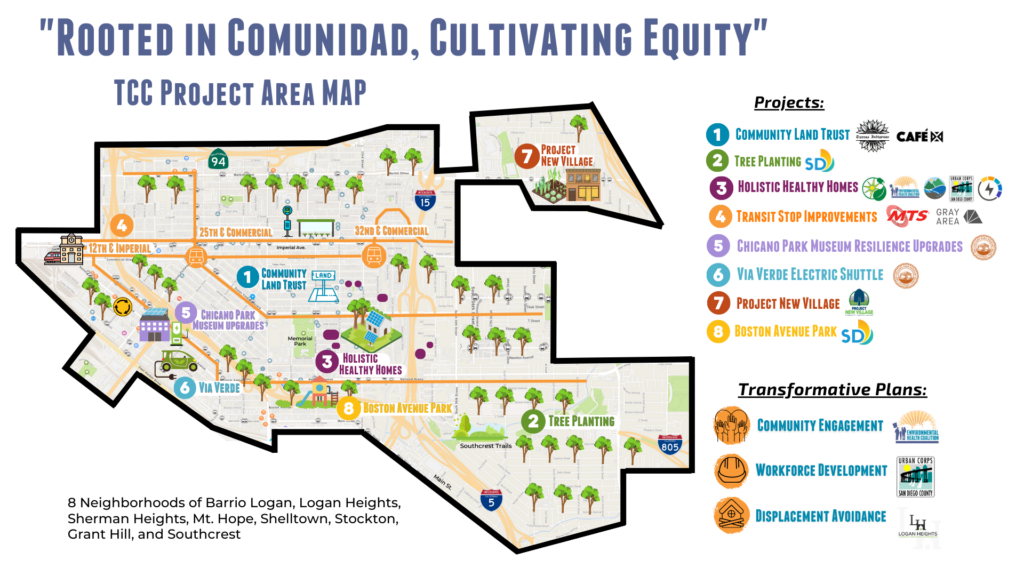 TCC Projects:
Based on the community's feedback, the coalition of applicants has chosen to apply for funding for the below projects.
Tierras Indigenas Community Land Trust (TICLT) 

Tierras Indígenas Community Land Trust (TICLT) is a non-profit of residents and organizers working to purchase land in our Historic Barrios to keep it out of the hands of greedy developers – who price us out of our own neighborhoods – and back into the hands of the community. TICLT will ensure the housing and buildings built on the land will remain affordable and community owned for future generations.
Holistic Healthy Homes Program 

The Holistic Healthy Homes Program (HHHP) will improve indoor air quality and the health of families and children by removing harmful air emissions and toxins, while strengthening them against climate-change impacts. During the grant period, 25 homes will undergo a "healthy homes make-over" with installations including: air purifiers, air monitors, electric appliances, solar panels, updated electrical panels, heat pump water heaters, xeriscaping, weatherization upgrades, solar power batteries and home repairs. The HHHP, coordinated by six community-based organizations, will be the first of its kind to integrate so many resources/programs for climate and health resiliency within the San Diego County region.
Trolley and Bus Stop Improvements 

The Trolley and Bus Stop Improvements project will upgrade key transit centers and bus stops to make public transit in the area easier, safer, and more convenient. This will include additional amenities to support Mobility Hub options at the 12th & Imperial Trolley Station, and making the 25th & Commercial Trolley Station safer for pedestrians. Additionally, it will include upgrades to 25 to 35 bus stops, such as bus shelters, lighting, benches, bike racks, and more.
Chicano Park Museum and Cultural Center Resilience Upgrades

The solarization of the Chicano Park Museum and Cultural Center (CPMCC) is part of a community-born vision to combat toxic greenhouse gas emissions that are contributing to asthma and other health maladies in our portside neighborhoods while energizing the community with clean, renewable energy from the sun that can slash utility bills, heat and cool our buildings, charge zero-emission vehicles, power phones, laptops and medical devices – all while equipping the Museum serving as a Community Resilience Center — a cool, healthy location for families to gather, study and celebrate Chicano art, history and culture and find respite from dangerously hot temperatures, spiking air toxicity, rolling black-outs and power outages. To continue reading, click here.
Via Verde Free Electric Shuttle

Via Verde will be a free, bilingual, on-demand electric vehicle shuttle service that safely and efficiently provides Barrio / Logan Heights residents, area business owners, their employees and patrons with door-to-destination transportation to the market, post office, local businesses, restaurants, community events, clinics, bus and trolley stops, parks, VFW, galleries, youth services and places of worship without contributing to the toxic air quality and parking congestion that have plagued the community for decades. To continue reading, click here.
Project New Village Community Gardens and Resource Center 

Project New Village (PNV), a BIPOC-led, community-rooted 501(c)(3) nonprofit, is preparing to build The Village, a community resource center that will strengthen the local economy, and foster a greener community. More than just a neighborhood grocery store, this 12,000 square foot food center will change the way that residents buy their food, moving away from national corporations to local farmers, neighborhood growers, and small local businesses. The Village's ground floor will have space for at least five vendors, cold storage, and a shared commercial kitchen to support community-led food production, aggregation, and distribution.
Boston Avenue Park 

Boston Avenue Linear Park will be located along Boston Avenue between 28th and 32nd Street, running alongside the I-5 freeway. The result of community-centered planning, the park will be a buffer between the freeway and the residential neighborhood, with 8 foot high, vine covered walls. It will include two playgrounds, an off-leash dog park, pedestrian walkways, community art spaces, and a bike path that will connect to the Chollas Creek bikeway.
Plant 700+ Trees

In collaboration with Urban Corps, Tree San Diego, and EHC, the City of San Diego will work to plant over 700 trees in empty right-of-way locations throughout the TCC project area to increase our climate resiliency. Our communities are urban heat islands; while rich in concrete paved streets and sidewalks, there are few trees and many health issues. Planting trees will improve air quality, increase shade, decrease temperature, and beautify public spaces.
Are there requirements for the type of projects that can receive funding from TCC? Yes, there are!
Learn what they are

TCC funds community-led development and infrastructure projects that achieve major environmental, health, and economic benefits in California's most disadvantaged communities. All projects must be in a five square mile urban area (see map above). Most of this area must be within the top 25% of disadvantages communities per CalEnviroScreen. A portion of the remaining area must be a low-income community as defined by AB 1550. Projects must work to reduce emissions, improve public health and environment, and expand economic opportunity in the designated area.
---
What's Next?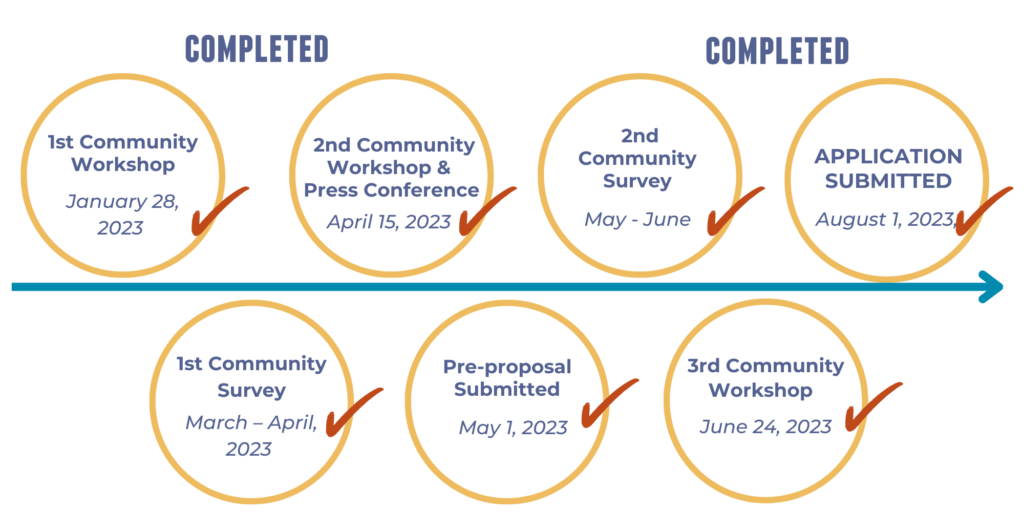 ---
What Is Transformative Climate Communities (TCC)?

TCC is an initiative by the Strategic Growth Council, with the CA Department of Conservation.

The program funds community-led development and infrastructure projects that achieve major environmental, health and economic benefits in California's most disadvantaged communities

TCC empowers the communities most impacted by pollution to choose their own goals, strategies and projects to enact transformational change.
Fact Sheet
Download the latest TCC Fact Sheet