Latinx Heritage Month Interview: Climate Change, Transportation, and San Diego's Latinx Communities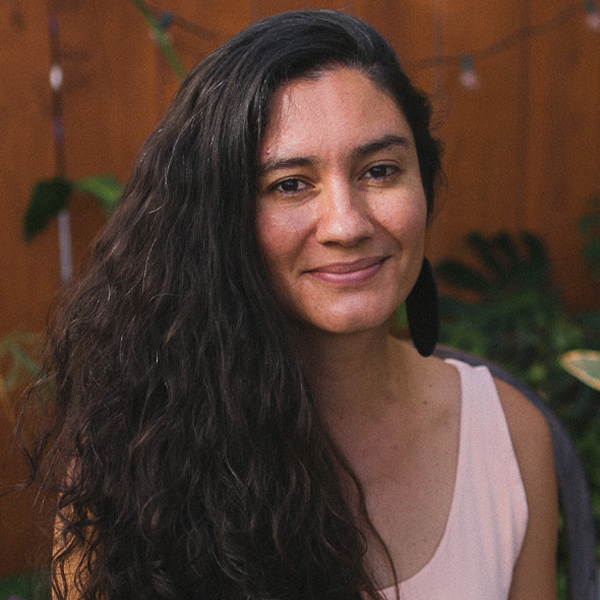 In the spirit of Latino Heritage Month, EHC interviewed one of San Diego's leading Latinx environmental justice advocates and our very own, Carolina Martinez. In this interview, Carolina discusses how being a Latina and immigrant shaped her work in environmental justice and led to her focus on improving San Diego's transportation system.
Carolina has been part of the EHC family for more than a decade and is currently the Climate Justice Campaign director. She is working on a community-led effort to transform San Diego's transit system into one that feeds the region's livelihood, reduces air pollution, and threads communities together. Carolina grew up in Medellín, Colombia. She was a teenager when her family immigrated to the United States.
Public transit provides an immediate, cost-effective solution to address toxic air pollution, reduce climate-change gases, and increase economic opportunities for our communities.
What led to your work in environmental justice?
I learned about the environmental justice movement when I was a student in graduate school. It is a movement that is home to a lot of my personal interests: issues of racism, health, and using urban planning to address injustice.
Health has always been a center for my life because I come from a lineage of healers. My grandmother was a midwife and both my parents are health practitioners back at home in Colombia. I see my work as an environmental justice advocate as continuing that lineage of healing and healing ourselves.
As someone that is an immigrant to the US, I found a home in the environmental justice movement. The people in the movement are well known for being very welcoming and caring.
For example, one time I was working on a federal grant and attended a meeting in Washington, DC. At the end of the meeting, which took all day, someone came in with a big ole pot of homemade curry. This federal employee took the time to make us a home-cooked meal. It is something that is so personal. That is what the environmental justice movement is to me.
As a Latina, what do you feel you bring to the environmental justice movement?
I want to acknowledge that the Latinx community in the US is very diverse and it can be complicated to categorize us all under one umbrella. Being Latinx is not limited to a certain type of person or race. It includes Black, Asian, and people of all races. We are all unique individuals who come from very different experiences.
With that in mind, I bring my experience growing up in Colombia and coming to the US when I was a teenager. I bring a lot of knowledge from my place of origin. I understand what it means to be an immigrant, to leave your home, and always having to find a sense of place. That informs how I interface with our community members and connect with people. I come from Medellin, a city that centered public transit even in the middle of a civil war when there was political turmoil and instability, and actually relied on it to create a sense of stability.
Now compare that to when I first arrived in the U.S. as an immigrant and waited for a bus that never came after registering for high school. That was my introduction to the U.S. I came from a country at war where I could just go to the corner and pick up a bus to one of the richest countries in the world and I wasn't being able to get around without a car. That really informs my work in public transit and climate justice.
You lead the climate justice campaign at EHC. What is climate justice, and how does it affect the Latinx community in San Diego?
Everyone has to deal with climate change but not in the same way, not everyone is vulnerable in the same way.
Climate justice is part of the EJ movement. It addresses the impacts of climate change on the most vulnerable communities. Low-income communities of color, which include Latinx communities, are at the forefront of the climate crisis because they are exposed to harmful pollution and poor living conditions that make them vulnerable to it. This means their homes and neighborhoods are not equipped to lessen the impacts.
For example, their sidewalks don't have trees to clean and cool the air and provide shade. Their housing doesn't have insulation, air conditioning, and/or heating. The roofs are in bad shape, which makes adding solar panels difficult if not impossible. The infrastructure to keep people safe during difficult weather conditions is not available. If we have a flood, our communities won't have an emergency response that could transport them out to safety. The level of vulnerability is an accumulation of many factors
Everyone has to deal with climate change but not in the same way, not everyone is vulnerable in the same way. Climate justice is being able to have a home that is weatherized so it is cooler during a heatwave, breathing clean air, and having the tools to be resilient when there is a climate disaster.
You are a transportation justice leader in San Diego. Why is transportation so important for the Latinx community in San Diego and for combating climate change?
Like I said earlier, Latinx communities are at the forefront of the climate crisis because of their vulnerability. Our current car-reliant transportation system is the main source of greenhouse gas (GHG) emissions, which causes climate change. We have to create solutions so people don't have to rely on cars to get around. Public transit provides an immediate, cost-effective solution to address toxic air pollution, reduce climate-change gases, and increase economic opportunities for our communities.
The Latinx community makes up one of the largest portions of public transportation riders in the San Diego region. Many members of our communities rely on public transit to get to work because they don't have cars. Still, we are also the communities that don't have access to frequent bus or trolley services. This makes it harder for riders to access opportunities, or just do essential tasks like going to the doctor, or the grocery store. Our communities need to be part of creating solutions to improve the transit system.
How do you empower Latinx and all people to stay positive and keep fighting for climate justice when things can sometimes seem bleak or out of reach?
I think the emotional weather is difficult because we are in a pandemic and climate issues are getting worse, and we are all experiencing it. All of it combined gives a very dark picture of the future.
There are big challenges in front of us, but there are also solutions. Mass transit presents a huge opportunity. It is something that is very feasible, it doesn't require new technology – it already exists. We don't need flying cars. What we need is a mechanism that easily moves the masses, thousands of people efficiently…. that can be done with a bus. A bus doesn't demand massive amounts of transformation. It just requires political will, which is something we can all focus on and advance. I focus a lot on communicating the importance of identifying practical solutions and on fighting for them rather than getting lost in all the bad news.
Who is your Latinx role model and why?
I have a lot of role models from the immediate women around me, my colleagues, community activists, and my mom and my sister. Francia Márquez back in Colombia is extremely inspiring to me. She comes from the environmental justice movement there and the way she has transformed policy and politics in Colombia is motivating.
I have a deep admiration for Vernice Miller-Travis who is one of the founders of the environmental justice movement in the United States.
I also look at the courage and the way that Alexandra Ocasio-Cortez communicates. The fact that she is so blunt and clear about how she conveys the issues and the solutions is also very inspiring to me.
What three words would you use to describe yourself?
Protectora de la alegría. Berraca. Inmigrante.
Translation: Protector of joy. Determined*. Immigrant.
*Berraca is a Colombian term meaning someone who is determined, bold, and will not give up.
What words of advice do you have for Latinx people who want to make a change in their communities?
Be a bridge between generations. As we engage in movement work we should be extremely intentional about being a bridge between generations. When that happens, you are mindful of our culture and the struggles that came before you, while seeking a better now. This allows you to lean into wisdom from the past and the future.