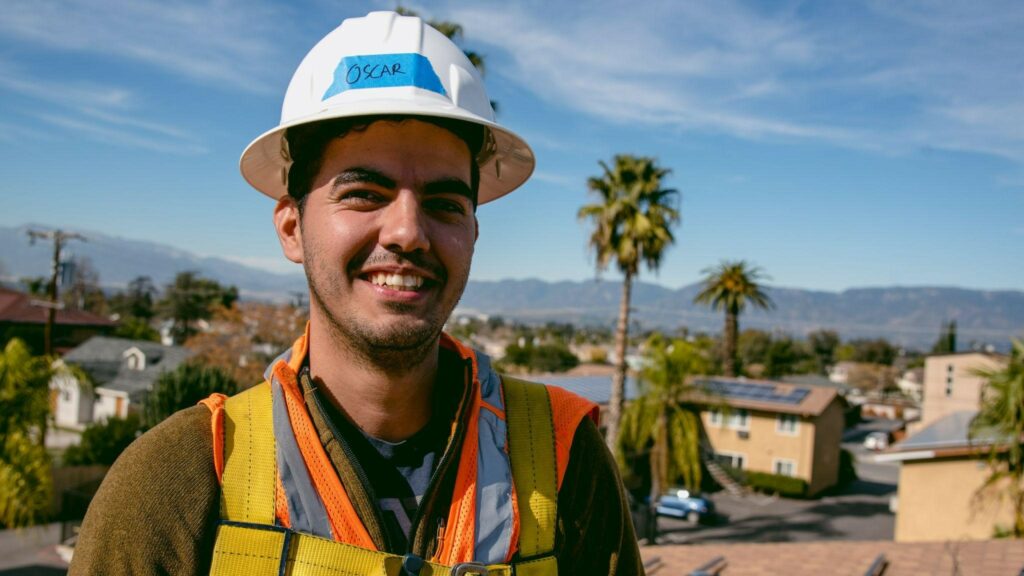 Beyond installing solar, a major goal of the Solar on Multifamily Affordable Housing (SOMAH) Program is to train workers for a renewable, fossil-fuel-free economy. By providing paid job training opportunities with every solar installation, SOMAH helps workers acquire or strengthen practical skills for the solar industry and access opportunities to network with solar contractors and industry leaders. For Oscar Flores, a former SOMAH job trainee from El Monte, SOMAH opened up new a new career path.
As an undergraduate student majoring in Electrical Engineering at UC San Diego, Oscar was aware of career opportunities in renewable energy. However, he did not consider this a career path for himself until he began volunteering on solar panel installations with GRID Alternatives.
"I knew the solar industry was a good place to be career-wise, but I did not really consider it for myself until I started doing solar installations. That opened up the world for me, and I have not looked back since."
Through this relationship with GRID, Oscar was able to participate in a paid job training opportunity with SOMAH in February 2020. He worked on a project installation at the Loma Sierra Apartments, in Loma Linda, CA over the course of four weeks, under the guidance of the construction team. Oscar helped to install a 95kW producing solar system for 24 units. Oscar emphasizes that his SOMAH experience was a powerful one that taught him many skills, such as how to work on a pitched roof. The opportunities Oscar had access to with SOMAH went beyond the hands-on experience in the field. He was also able to network and connect with the solar contractors.
Oscar credits SOMAH job training for laying the foundation for his career path, "the skills I learned from people [in the construction team] like Angel, Miguel, and Derek were invaluable, my knowledge around solar energy went from zero to 100%."
After completing his training, Oscar began working for Motive Energy, in Victorville, CA, where he is currently a systems engineer, a position he feels his time with SOMAH prepared him to attain. He is also studying photovoltaic system design for residential and commercial properties, and working on a special project in West Covina, CA, close to where he grew up.
At EHC, we are working with SOMAH to bring these job training opportunities and the benefits of solar to EJ communities in San Diego and National City. To learn more about job training opportunities with SOMAH, visit the SOMAH website here or contact Monica de la Cruz at monicad@environmentalhealth.org. You can also follow and like SOMAH on Facebook, LinkedIn, Instagram, and Twitter.