Our communities have suffered for too long from the pollution generated by the Port of San Diego and its tenants. Communities neighboring the Port have some of the highest levels of diesel pollution in the San Diego region. Barrio Logan has 98% more diesel pollution than the rest of the state.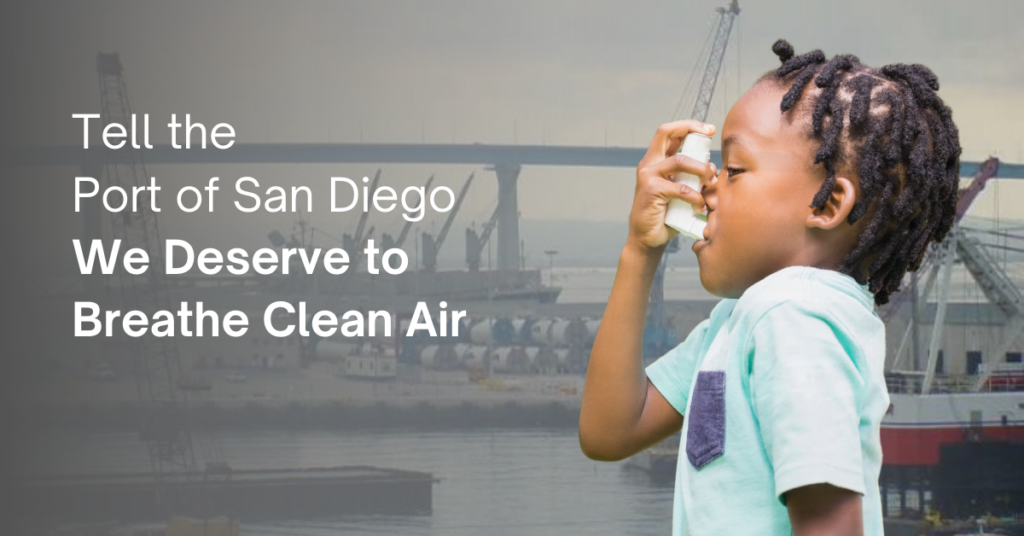 Port Pollution Is Hurting Our Health
Diesel pollution causes lung cancer, and chronic diseases like asthma, heart disease, breathing problems, and more.
In 2018, chronic diseases like these caused 53% of all deaths in South San Diego.
The children in our neighborhoods have more than double the rate of asthma emergency rooms visit than the county average.
It's Time for the Port to be a Good Neighbor
The Port is working on the Maritime Clean Air Strategy (MCAS), a plan to clean up the damage it is doing to our air.
The MCAS is supposed to create clear goals, rules, and deadlines for the Port to reduce the air pollution it creates. However, the Port's current plan is business as usual and does NOT put our health first.
Our Health Can't Wait! We Deserve Clean Air Now
The Port can put our health first by committing to these goals in the Maritime Clean Air Strategy:
Decrease the risk of cancer by reducing diesel and other toxic air pollutants
Require heavy-duty trucks to transition to zero-emission vehicles (ZEV)
Implement a plan to install ZEV charging stations
Develop revenue sources to implement the MCAS goals
Sign Our Petition: Tell the Port you deserve to breathe clean air
Click below to sign our petition and demand clean air.
More Information & Resources