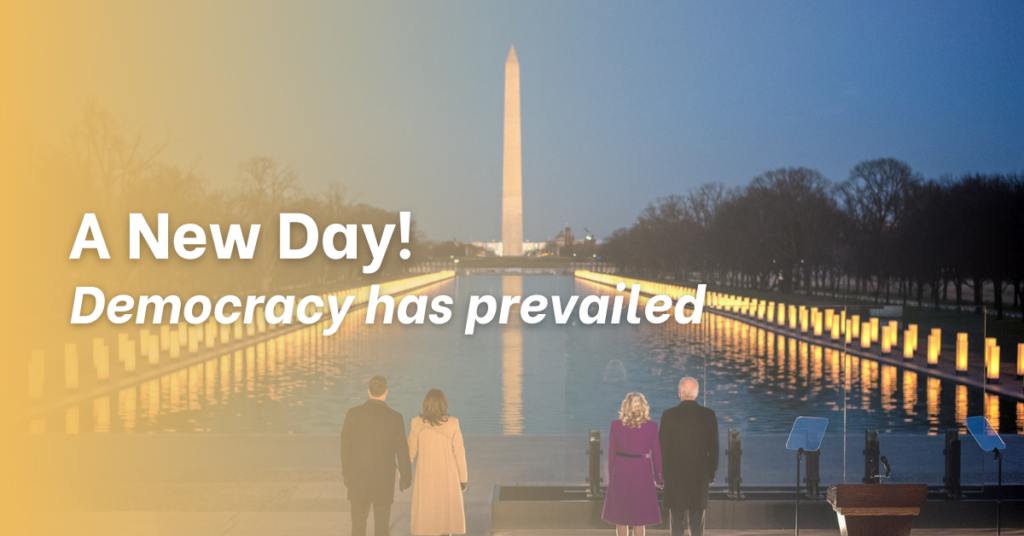 versión en español a continuación
A new day! Yesterday was probably the most monumental Presidential Inauguration in our lifetimes and perhaps ever. With the new leadership of President Biden and Vice President Harris, we can look forward to bold action on the pandemic, climate change, environmental justice, economic recovery, and racial justice. The Biden-Harris Administration has proposed an ambitious agenda that inspires hope for the entire country but speaks especially loudly to communities of color that have been hardest hit by COVID-19 illnesses, death, and its economic impacts, as well as climate pollution and racist actions in policing and immigration.
While the last four years have been extremely difficult for the country and especially for our environmental justice communities, we know that the discriminatory policies that allowed exposure to toxins and subsequently higher disease rates did not start in the last four years. The assaults on our lives, our families, and human rights started long ago and have been upheld by local, state, and federal governments.

Amplifying the hopeful federal agenda, the slate of newly elected and appointed local officials at the County Board of Supervisors, San Diego and National City Councils, Port Commission and the reformed San Diego Air Pollution Control District Board are all positioned to take action to make real and lasting change. Now, at every level, officials have pledged to make substantial, significant and meaningful change to improve the lives of our communities.
Environmental Health Coalition is ready for this auspicious moment, but it will be a challenge. The neglect and mistreatment have left scars and the division in our country is wide. As President Biden also said, "The divisions in our country, while deep, are not new. The battle is perennial." We must stand with our communities to demand justice as we have clear evidence, from the insurrection at the Capitol to the razor-thin election results, that the calls for continued discrimination are loud.

---
Versión en Español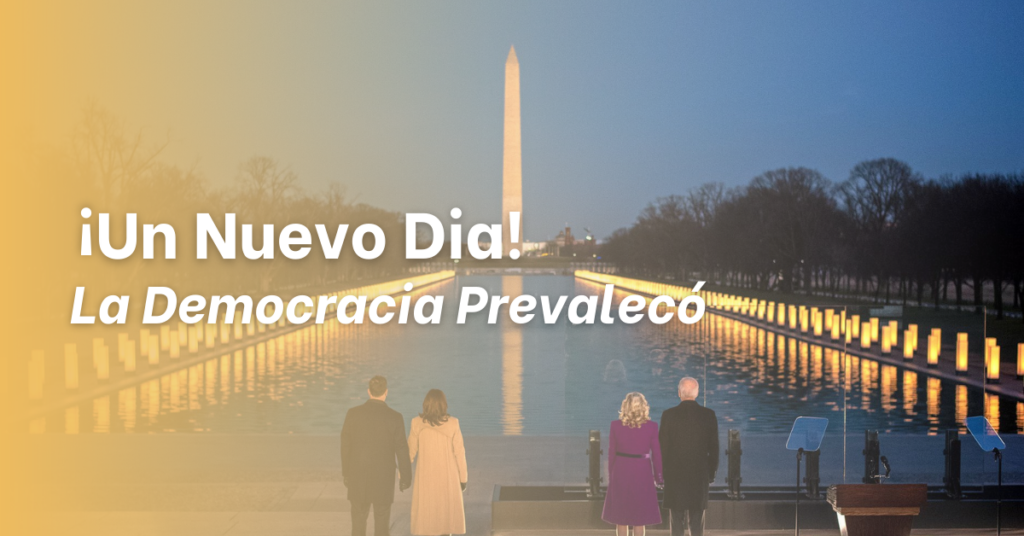 ¡Un nuevo día! Ayer vivimos la Inauguración Presidencial posiblemente más monumental en nuestras vidas y tal vez en la historia. Bajo el nuevo liderazgo del Presidente Biden y la Vicepresidenta Harris, anticipamos acciones audaces ante la pandemia, el cambio climático, la justicia ambiental, la recuperación económica y la justicia social. La Administración Biden-Harris propone una ambiciosa agenda de trabajo que inspira esperanza para el país entero, pero que se dirige en una voz particularmente alta a las comunidades de color que han sido las más afectadas por enfermedad, muertes y afectaciones económicas relacionadas con COVID-19, así como con la contaminación ambiental y acciones racistas en la actuación policial y en migración.
A pesar de que los últimos cuatro años han sido extremadamente difíciles para el país y especialmente para nuestras comunidades de justicia ambiental, estamos conscientes de que las políticas discriminatorias que permitieron exposiciones a toxinas y por ende mayores tasas de enfermedades no iniciaron en estos últimos cuatro años. Los atentados contra nuestras vidas, nuestras familias y nuestros derechos humanos comenzaron hace tiempo y los han sostenido gobiernos locales, estatales y federales.
En amplificación de la esperanzadora agenda de trabajo federal, tenemos a toda una serie de funcionarios(as) públicos(as) recientemente electos(as) o designados(as) a la Junta de Supervisores del Condado, los Cabildos de San Diego y National City, la Comisión Portuaria y la reformada Mesa Directiva del Distrito de Control de la Contaminación Atmosférica de San Diego, posicionados(as) para actuar en aras de lograr cambios verdaderos y perdurables. Hoy, en todos los niveles, contamos con funcionarios(as) públicos(as) que se han comprometido a lograr cambios sustantivos, sustanciales y trascendentes que mejoren las vidas de nuestras comunidades.
Environmental Health Coalition está preparada para este auspicioso momento, aunque sabemos que será un reto. El descuido y el maltrato han dejado cicatrices y la división en nuestro país es extensa. Como también indicó el Presidente Biden, "las divisiones en nuestro país, aunque profundas, no son nuevas. La lucha es eterna". Debemos elevarnos junto con nuestras comunidades para exigir justicia, ya que tenemos clara evidencia – desde la insurrección en el Capitolio hasta los estrechos márgenes de las elecciones – de que el llamado por una continua discriminación sigue fuerte.