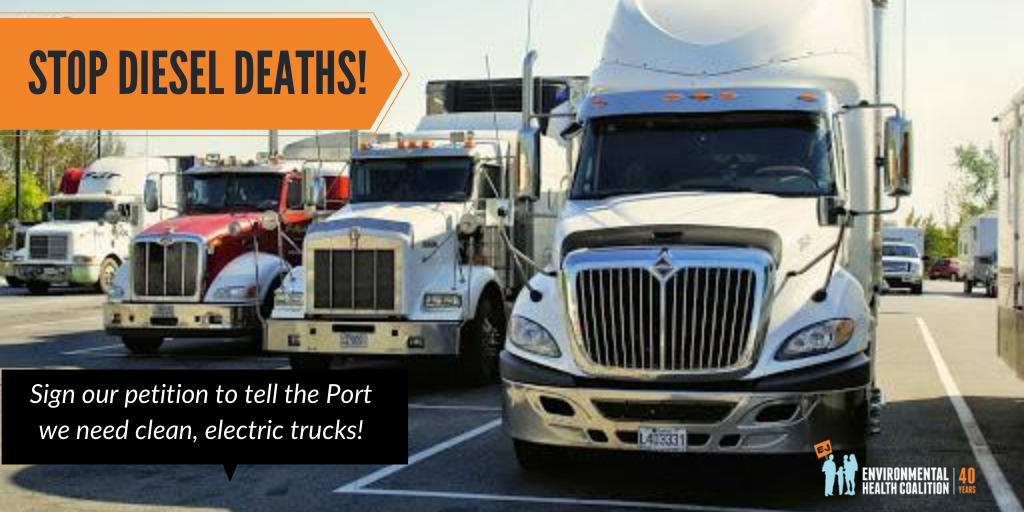 Tell Port of San Diego to STOP DIESEL DEATHS
The Mitsubishi Cement Corporation (MCC) is proposing to build a mega cement warehouse on the Tenth Avenue Marine Terminal in Barrio Logan. If approved by the San Diego Board of Port Commissioners, the MCC warehouse is estimated to increase monthly diesel truck trips by at least 50% adding 2,000 trips and up to as many as 8,700 trips in future years!
Please take action today and tell the Port to protect public health by requiring MCC to use clean electric trucks that reduce diesel air pollution.
Barrio Logan is already at the top 5% for Diesel Particulate Matter (PM), a pollutant that can cause serious health problems such as lung cancer and asthma.
Barrio Logan and National City also have disproportionately high rates of COVID-19 infections – a disease made worse by poor air quality. Our communities don't need industry and the Port of San Diego to add fuel to the fire, exposing residents to even further risks of health complications.
The Port must reject the MCC mega cement warehouse proposal unless the company complies with a clean electric trucks requirement and other measures that protect portside communities from continued exposures to chronic air pollution.

#stopdieseldeaths
Please sign our petition today!