The American Planning Association (APA) selected EHC's Policy Director, Carolina Martinez to receive their 2019 National Planning Excellence Award for Advancing Diversity & Social Change. The award is a testament to Carolina's commitment and the resolve of community members such as Lorena Chavez and Adriana Mecina to advance the Paradise Creek housing development project in National City.
From educating community members to identifying funding and partnership opportunities, Carolina worked alongside of the resi-dents to ensure a community-driven process that resulted in Paradise Creek, a 201-unit, affordable housing complex on a remediated brownfield site. #healthyhoods
Environmental Health Coalition worked closely with the non-profit affordable housing organization, Community Housing Works, to bring fiscal resources, housing expertise and community priorities together to make the project possible.
Carolina received the award at the annual APA conference on April 15, 2019 in San Francisco: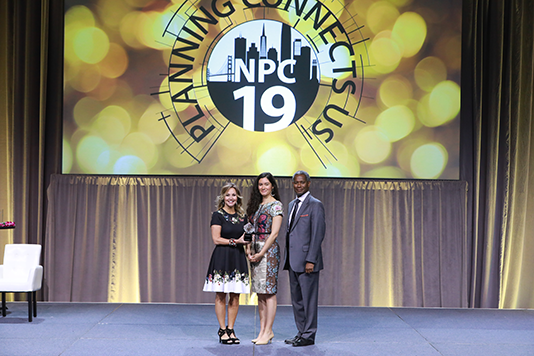 Wendy Shabay, AICP, 2019 Awards Jury Chair is in the photo together with Carlton Eley.
Photos courtesy of APA, photo by The Photo Group.