AB 423 Approved by Assembly Committee.
It is unacceptable that some San Diego communities face a human cancer risk of 300 per million because of air pollution. Last week we asked you to demand clean air for all San Diegans by reforming the governing board of the San Diego Air Pollution Control District (APCD).
Thank you for taking action, your voices were heard in Sacramento.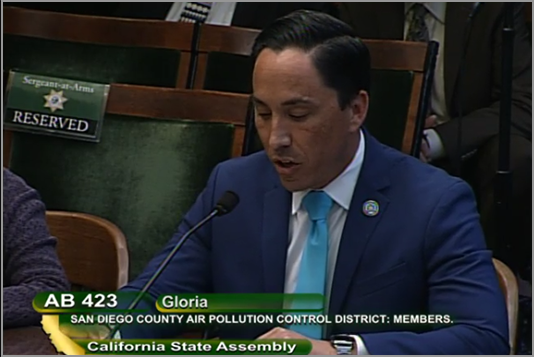 AB 423, an EHC sponsored bill by Assemblymember Todd Gloria, has passed the first step of the legislative process in the California State Assembly. If passed into law, the legislation ensures that San Diego will have an APCD board with diverse representation from every city to address the most urgent air pollution needs.
Elected officials across San Diego County are stepping up to support AB 423. Read letters of support from:
• Georgette Gomez – President, San Diego City Council
• Olga Diaz – Councilmember, Escondido City
Testifying in support of the bill in Sacramento yesterday, National City Mayor Alejandra Sotelo-Solis said:
"We need your help to enable National City and all of the 18 cities in San Diego County to participate in improving air quality. We want a seat at the table. Our perspectives and insights into local air pollution sources are unique and valuable."
We need a massive shift in the way we fight air pollution in San Diego and it is critical that legislators continue to hear your voices as we urge them to pass AB 423 into law. If you have not signed our petition yet, please take action now and Demand Clean Air For All San Diegans.
HELP SPREAD THE WORD ON SOCIAL MEDIA



More AB 423 Resources