In December 2018, San Diego City Council adopted an EHC-supported resolution that directs heavy-duty diesel trucks to use Harbor Drive as the designated truck route to avoid passing through Barrio Logan residential areas and accessing the freeways.
Enforcement is the key to ensuring that heavy-duty trucks do not pollute streets where people live, learn and play.
EHC applauds the City of San Diego for posting new truck route signs on Harbor Drive, as well as signs that identify Barrio Logan streets where trucks are now prohibited. We urge the city to continue implementing the resolution with enhanced police enforcement, community input, and a full audit of older, faded truck signs.
The San Diego Police department welcomes community input and feedback on the new truck signs and route enforcement efforts at their monthly meetings:
Central Division Community Meetings
Captains Advisory Board Meetings
Meetings are held at 6PM every 4th Thurday.
2501 Imperial Avenue
San Diego, CA 92102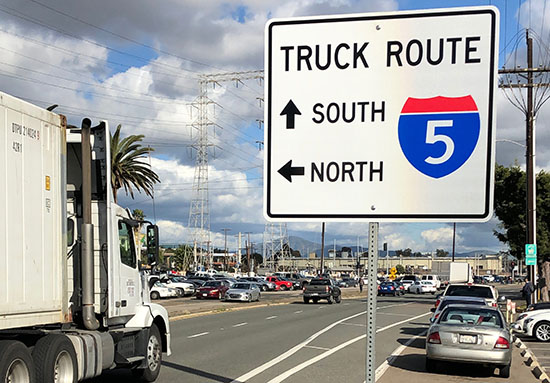 Wayfinding signs on Harbor Drive and 32nd Street signaling freeway access outside of the core of Barrio Logan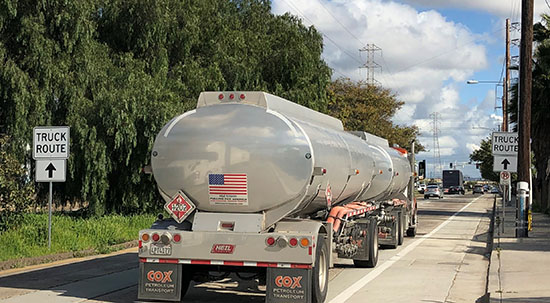 Wayfinding signs on Harbor Drive along the truck route. These signs are larger and easily visible by truck operators.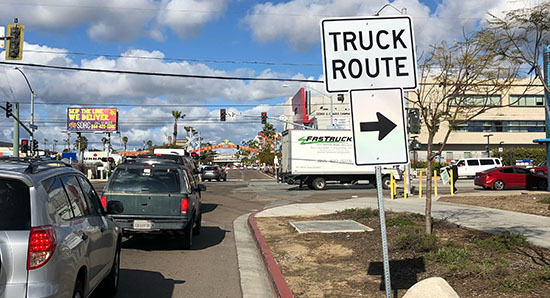 Wayfinding sign on Cesar Chavez and Harbor Drive signaling the truck route for trucks leaving the Port of San Diego.